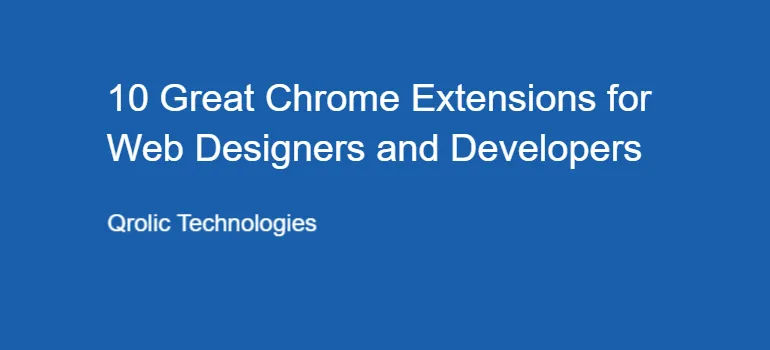 Chrome is the most loved web browser among the web designer and developer community. What makes it popular is its user-centric approach. Chrome provides lots of features that help developers to enhance their performance and simplify their tedious tasks.
Also, chrome offers a great extension library or web store as they call it, which has many useful tools for designers and developers. Here we have listed 10 Great Chrome Extensions, have a look.
ColorZilla is a free browser extension to gather hex codes of colors from web pages. It has an eye-dropper tool that enables you to extract color codes from web pages. You can save hundreds of codes in a clipboard and make a color palette for your projects in ColorZilla. This extension also provides a gradient generator tool where you can generate beautiful CSS3 gradients to use in your websites.
Liked a design and want to save it to get inspiration from it later? Get a LightShot extension on your Chrome browser. LightShot Chrome extension helps you take a quick screenshot of your screen. You can capture web pages, articles, pdf documents, and almost anything with LightShot. Draw on the screenshot, highlight areas, and text to the screens. When you are done, save it on your device, upload it to the LightShot website, or print it out.
The Web Developer Chrome extension provides many helpful tools to web designers and developers. You can disable images, styles, page colors, and Javascript of a page. You can analyze images and codes. You can resize the web browser window to check for mobile screens. You can outline web elements, display a ruler on the screen, and find all broken images and links. All these great tools simplify the tasks of web developers and designers.
When you need to take a screenshot of an entire page, you capture it in sections and then merge all those sections together, right? But now you don't have to do it that way. GoFullPage is an awesome Chrome extension that helps you take the entire page snap in one click. They claim it is the highest-rated screenshot extension on the Chrome web store. It allows you to save screenshots in various formats like PNG, JPG, PDF, etc. 
Window Resizer re-sizes the browser's window to emulate various resolutions. helps web designers and developers in testing their layouts on different browser resolutions. You can add, delete, or re-order the resolution list, it is completely customizable. You can set the window's height, width, and position. Window Resizer also provides customizable global key shortcuts, using it you can export your settings and import them on another computer. 
6.

What the Font

What the font is a font identifier tool for designers and developers. This Chrome extension just saves you a lot of time in identifying fonts featured on any website. All you need to do is Right-click on the text you want to find the font style of, choose the "What the Font" option from the popup, and you will get displayed all the font information about that particular text in front of you. This is one of the must–have tools in web designer's and developer's browsers. 

Grammarly is a powerful grammar checker tool. This Chrome extension helps you find grammar mistakes and gives suggestions to eliminate those mistakes. Grammarly is compatible with most of the text fields of the website, so when you write it starts working along with it and acknowledges mistakes you made. Grammarly can do much more than check grammar mistakes. It features a tone detector tool also which can also recognize the tone of your writing.

 

This amazing Chrome extension is specifically built for web designers. CSS Peeper enables designers to inspect styles in a simple and organized way. You don't have to dig into a code inspector of your browser. You can inspect a whole website or a single element and find colors, typography, measurements, paddings, effects, etc. very easily. This tool displays a whole color palette of any website. You can find the color code of any color featured on the site.  

FireShot is another great screenshot extension in the Chrome web store. It takes a full-page screenshot and allows you to edit and save it in various formats such as PDF, JPEG, and PNG. You can upload it on other platforms, save it on your local device, send it to OneNote, clipboard, or email, or simply just print it out. It was awarded as "The Best Google Chrome Extension" by PCMAG.com in 2013.

Loom extension is a must-have kind of tool for web designers and developers. If you are having a communication problem with your employees or co-workers while working from home, this tool can be really helpful to you. You can record a video using the Loom and send it to your colleague or employee faster than typing a message or email. You can trim and edit the video to remove unnecessary things out. You can integrate Loom in Slack, Gmail, Notion Coda, Intercom, and Headway.
Conclusion
These 10 extensions are the ultimate productivity boosters and performance elevators for web designers and web developers. Try them out.
If you are looking for a software firm to create your business website or mobile app, your search ends here. We build affordable and robust software solutions for businesses to digitally thrive on. Contact us to get a quote. You can mail us at [email protected] or WhatsApp us at +91 95 37 84 38 39