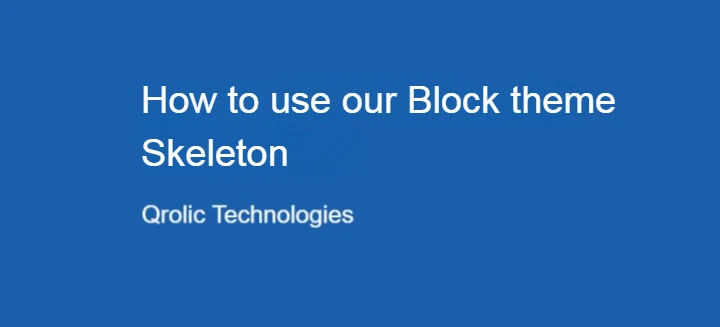 The Qrolic WordPress Block Theme Skeleton is a powerful tool that can help you create a custom WordPress block theme. It provides a solid foundation with all the essential components, such as templates, parts, functions, patterns, and block styles.
In this guide, we'll walk you through the steps on how to create a custom WordPress block theme using the Qrolic WordPress Block Theme Skeleton:
Step 1: Navigate to Your Theme Directory
Begin by accessing your theme directory located within the "wp-content/themes" in your WordPress installation.
Use the command:
cd wp-content/themes/
Step 2: Clone the Qrolic Repository
After accessing the themes directory, start by cloning your Block Theme Skeleton repository from Git to your local development environment.
Use the command:
git clone https://github.com/qrolic/wordpress-block-theme-skeleton.git
Step 3: Add your theme details & activate your theme
– After cloning the theme, rename the theme directory from wordpress-block-theme-skeleton to your theme name.
– Open the style.scss file and edit the theme details, such as the theme name, author, and description.
– Save the style.css file and compile it using a SASS compiler to generate the style.css file.
– In your WordPress admin dashboard, go to Appearance > Themes.
– Find your theme in the list of available themes and click the Activate button to make it your active theme.
Step 4: Theme Customization and Configuration:
Templates & Parts:
Create templates and parts to structure your theme's layout effectively.
functions.php:
Define custom functions and features in the functions.php file, tailoring them to your theme's specific requirements.
Patterns:
Utilize patterns to maintain content consistency. You can configure these patterns in the patterns.php file, to learn more about WordPress patterns, read our article on how to create custom block patterns.
Theme Configuration:
Configure various aspects of your theme, such as block styles, color palettes, and other settings, in the theme.json file.
Theme Prefix:
Personalize your theme by giving it a unique name using the provided prefix, reflecting your brand or project.
Set Theme Information: In the style.css file, set your Theme Name, Author, Author URI, and Text Domain to provide essential details.
Assets (Folder ):
JavaScript Management: js(folder):
In the main js folder, place your JavaScript code in the script.js file.
CSS Management: CSS (folder):
admin(folder) :
include all layout-related CSS within it admin.scss.
Variables:
Add styling variables to _variable.scss in the theme's variable folder.
Libraries :
The library folder is for adding any necessary libraries for your theme.
layout:
In the external folder, add the required layouts for the front end.
core:
In the core folder, add only essential core global.scss files.
main.scss :
add the required styling for the front end.
inc (folder):
Inside the "inc" folder of the WordPress Block Theme Skeleton:-
Blocks (Folder):
Inside this folder, you'll find two demo blocks – "demo-dynamic-block" and "demo-static-block."
This is the place where you can insert your custom blocks tailored to your theme's requirements.
CPT (Folder Custom Post Type ):
Within this folder, the "portfolio" custom post type is registered in "portfolio.php."
You can add any custom post type you need in this folder.
patterns.php:
This file registers block patterns, providing a centralized view of available blocks.
nav.php:
Register navigation menu to align your site structure with the theme.
enqueue.php:
In this file, you can include any necessary files for both the back-end and front-end of your theme.
template-functions.php:
This file is where you can add functions tailored to the theme's templates and specific functionality.
Step 6: Customize Your Theme:
Access the WordPress Customizer to configure your theme settings. Here, you can set options like your site title, logo, colors, fonts, and layout.
Head to "Pages" > "Add New" to create the pages for your website. These pages will serve as the content for your site.
Add Custom Blocks: If your Block Theme Skeleton includes custom blocks tailored to your theme's functionality, add them to your pages.
Conclusion:
In this guide, you have learned how to set up and customize the Qrolic WordPress Block Theme Skeleton. You have configured your theme, added templates and parts, defined custom functions, and created custom blocks. Now, your theme is ready for further customization and content creation.
Here are some additional tips for creating a custom WordPress block theme:
– Use patterns to maintain content consistency and create reusable layouts.
– Use custom blocks to add unique functionality and features to your theme.
– Use the WordPress Customizer to preview your changes and make adjustments as needed.
– Test your theme thoroughly before deploying it to your production site.
With the Qrolic WordPress Block Theme Skeleton, you have the power to create a custom WordPress block theme that is both functional and stylish. Use your imagination and creativity to build a theme that perfectly meets your needs.
If you are looking for an exclusive WordPress agency, your search ends here. We are offering robust WordPress solutions for businesses to digitally thrive on. Contact us to get a quote. You can mail us at [email protected] or WhatsApp us at +91 95 37 84 38 39.