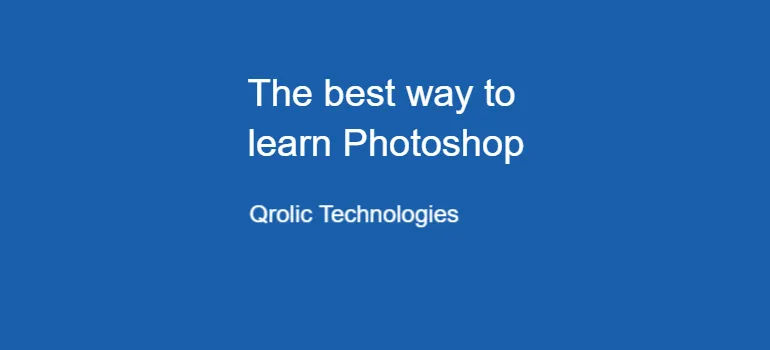 If you google "list of best photo editing software", you'll find photoshop being on top of every list. Photoshop is widely used software by photographers and graphic designers nowadays. It has become so much popular that we've made a verb out of it. When we see an edited or doubtfully realistic picture, we assume it is Photoshopped (even if it isn't edited in the software). What made Photoshop this popular and kept it on top of the list even after so many years is its advanced editing tools and easy to use features. 
Since its inception, Photoshop has been evolved so much from being merely an image manipulating software. Nowadays photoshop is being used for creating graphics, vector images, and digital paintings as well as for editing videos. There is hardly any platform used for this range of versatile purposes. With this evolution, Photoshop is keeping its dominance over various digital visual art fields. 
By observing the current scenario, we can tell with 100% surety that Photoshop won't go anywhere in near future. The platform will keep adding new tools and features to simplify and automate the editing and designing process. 
If you want to learn Photoshop but don't know where to start, this article is made for you. Here I am going to explain a solid effective way to learn this software on your own. So, let's get started. 
What's your purpose for learning Photoshop?
Photoshop is a versatile software. It is used by photographers, web designers, graphic designers, software developers, or everyone working in the visually creative industry. So, if you want to learn image manipulation, you don't have to learn about a variety of features meant for graphic designing. Likewise, if designing is your interest you can exclude photo editing stuff. 
Basics of Photoshop
If you are clear about what you want to learn Photoshop for, you should move ahead to the basics of the software. You'll have to learn about basic tools, panels, layers, and various other features of the Photoshops like menus, design, typography, filters. 
1. The Toolbox
When you launch Photoshop, the Toolbox will automatically appear on the left side of the screen. The Toolbox will provide you all the mouse and cursor-based tools. This section contains all the basic tools for working on graphics. You can use these tools by clicking on them.  
2. Basic Panels
Panels are located on the right side of your computer screen. You can adjust the placements of these panels as you want. They help you manage, monitor, and modify images. For example, various panels for layers, adjustments, color, history. Libraries etc. 
3. Introduction to Layers
Layers are like a stack of sheets. Layers contain images, text, or any object that makes a layered file. You can move, edit, and work with the content of a layer without affecting another one. You can use layers, their group, and the effect it has been given from the layer panel. 
4. Basic Menus
You will see menus like File, Image, Edit, Layer, Select, Filter, View, Window, Help, etc. residing at top of the screen. They are the basic elements of Photoshop. These menus will help you let open and save files, adjust canvas size, access some editing tools, open and close various windows, and much more.  
5. Filters
Filters can be accessed from the Filter menu. They help you transform your image with various special effects. You can use filters to retouch or clean up your photos. Photoshop offers a variety of filters to work with, but if you want more effect, there are third-party plugins too. 
How should you get started?
Just install the software and try all the tools. You don't necessarily have to create something. Just experiment with them to have an idea about their use. By doing this, you will understand their work. 
Now go for any tutorial series or course of your choice. You will find lots of free tutorials as well. Select a tutorial that gives a thorough explanation of every tool and feature in an organized way.  
Although you can learn from written tutorials as well, I advise you to go for video tutorials as you can get more idea of tools and features if you learn from someone who is explaining while practically doing it. 
Best resources to get started with
If you want to learn about Photoshop through the video tutorials, I recommend these two YouTube playlists. They will give you very comprehensive knowledge about every tool, effect, and feature with a practical.  
Hindi Playlist  
Photoshop for Beginners Urdu / Hindi 
English Playlist 
Photoshop for Beginners | FREE COURSE 
After finishing these tutorials, you will have basic knowledge of Photoshop workspace. You will be able to edit images with various tools, effects, layers, all the other Photoshop elements. 
Some Helpful Tips
Stick with one tutorial series at a time. Otherwise, you will most likely fail as it is hard to grasp from multiple sources at the same time.

 

Follow the tutorials carefully. Watch them making posters and surreal art or whatever they are making with concentration.

 

Be consistent. Consistency is key to effectively learn anything. Give the same amount of time to your learning and practice.

 

You can join virtual community groups such as stack exchange. These groups are full industry experts who will provide you guidance whenever you need it.

 
Experiment with the tools you've learned till now.

 
Post Tutorial Learning
Once you learn the basics, start observing all the graphic designs you encounter. Recreate the same designs and effects with your intuition. You can try creating simple things on your own. Doing this will seed you with many doubts that otherwise wouldn't have risen. You can solve all these doubts on online community platforms. 
Try learning things on your own without following any tutorials. Tutorials are good to acquire basic knowledge, but if you want to truly learn something, do it with your own intuition. Open tutorials just to check the end product, and recreate it with the knowledge you have. 
This way you can explore more and get your hands on the software. It can widen the scope of learning by doing with own imagination. If you feel you are stuck at something and can't move further at some point, you can watch tutorials to know how to do it. 
I recommend following these two YouTube channels for getting a reference. They provide every information regarding any photo editing and graphic designing related work. They teach you various techniques on image manipulation and vector creation. 
This is it
Here I have explained techniques to learn photoshop. There can be many ways to learn anything. The method I have exclaimed here worked for me. You don't have to necessarily follow the same thing. You can experiment and find out the best way to learn this software effectively. 
If you are looking for a software firm to create your business website or mobile app, your search ends here. We build affordable and robust software solutions for businesses to digitally thrive on. Contact us to get a quote. You can mail us at [email protected] or WhatsApp us on +91 95 37 84 38 39.